The Certificate of Recognition of CARICOM Skills Qualification programme facilitates the free movement of labour by CARICOM Skilled Nationals (CSNs) by allowing CSNs of participating CARICOM nations to move between nations to seek and pursue work opportunities without needing to obtain a work permit. The information below provides insight into the performance of this programme during the month of April 2022. We invite all readers to visit our website at www.bac.gov.bb to learn more about this programme and assess their eligibility to qualify as a CARICOM Skilled National.
During the month of April 2022, thirty-one (31) Certificate applications and thirteen (13) Certificate verification requests were received. There were twenty-seven (27) Certificates issued to successful applicants and ten (10) Certificates verified for holders of Certificates issued elsewhere in the region. These numbers represent increases in many regards, and decreases in others, compared to the previous month, March 2022. During that month, the Barbados Accreditation Council received thirty-five (35) Certificate applications and eleven (11) Certificate verification requests while issuing twenty-four (24) Certificates and verifying nine (9) more.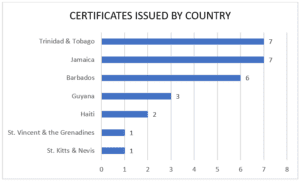 As the chart above shows, the joint-largest number of Certificates were issued to nationals from Jamaica and Trinidad and Tobago. No Certificates were issued to nationals from Antigua & Barbuda, Belize, Dominica, Grenada, Montserrat, St. Lucia, and Suriname. Historically, Barbadian nationals have accounted for upwards of 50% of recipients of CARICOM Skills Certificates in most cases. However, the theme throughout 2021 and the beginning of 2022 has been that Jamaican nationals have become the most common applicants for CARICOM Skills Certificates.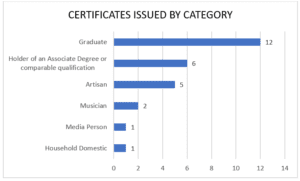 The largest number of the twenty-seven (27) Certificates issued were to those who applied under the Graduate category. No Certificates were issued to anyone under the categories Nurse, Security Guard, Teacher, Agricultural Worker, and Sports Person. No Certificates were issued to applicants from the Artiste category neither. The introduction of assessments for applicants of this category, alluded to in previous editions of this newsletter, could lightly be a cause for this.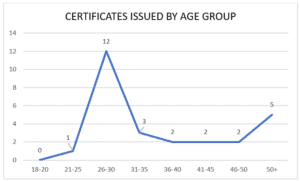 Certificates were issued mostly to recipients who fell between the ages of 26 & 30, with 44% going to recipients within this age range.
BARBADOS ACCREDITATION COUNCIL RECOGNITION SERVICES

The table shows that the most sought-after Recognition service during April 2022 was the BAC's Recognition of Institution and/or Programme service. Through this service, applicants can have the Council perform an assessment on an institution and/or programme of their choice to determine its recognition status and credibility.
BARBADOS ACCREDITATION COUNCIL REGISTRATION SERVICES

In April 2022, Barbados Community College, Mel's Exotic Nail School and Salon Inc., and Regional Security System all renewed their registration statuses with the Council. Barbados Community College had previously been registered with the Council during the period December 2020 – December 2021, while Mel's Exotic Nail School and Salon Inc.'s and Regional Security System's last periods of registration were May 2019 – May 2020 and July 2019 – July 2020, respectively.
To learn more about Registration with the BAC, or any of its other services, we invite you to visit our website at www.bac.gov.bb.