CERTIFICATE OF RECOGNITION OF CARICOM SKILLS QUALIFICATION
The Certificate of Recognition of CARICOM Skills Qualification programme facilitates the free movement of labour by CARICOM Skilled Nationals (CSNs) by allowing CSNs of participating CARICOM nations to move between nations to seek and pursue work opportunities without needing to obtain a work permit. The information below provides insight into the performance of this programme during the quarter from January 1, 2023, to March 31, 2023. We invite all readers to visit our website at www.bac.gov.bb to learn more about this programme and assess their eligibility to qualify as a CARICOM Skilled National.
During the quarter of January – March 2023, one hundred and seventeen (117) Certificate applications were received, and one hundred and forty-seven (147) Certificates were issued. These numbers were 47% and 213% increases, respectively, on the tallies of the previous quarter October – December 2022 and quarterly all-time records at the Council. Additionally, thirty-nine (39) Certificate verification requests were received while verifying forty-six (46) Certificates. These numbers were 22% and 100% increases, respectively, on the tallies of the previous quarter October – December 2022 and rank second all-time amongst quarterly records at the Council.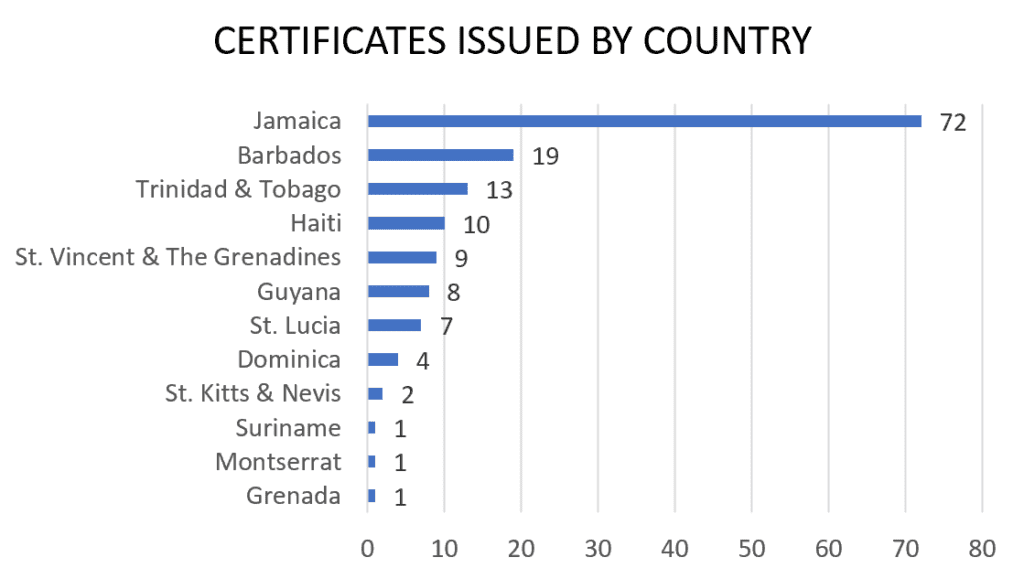 As the chart above shows, the largest number of Certificates were issued to nationals from Jamaica. No Certificates were issued to nationals from Antigua & Barbuda and St. Kitts & Nevis. Historically, Barbadian nationals have accounted for upwards of 50% of recipients of CARICOM Skills Certificates in most cases. However, 2021 onwards has seen Jamaican nationals become the most common applicants for CARICOM Skills Certificates.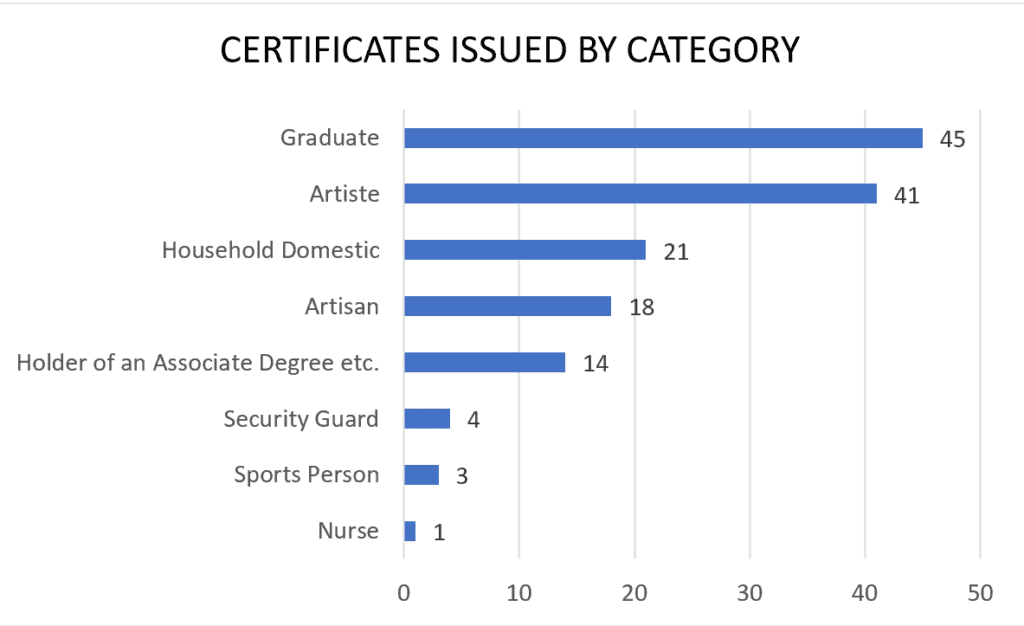 The largest number of the 147 Certificates issued were to those who applied under the Graduate category. No Certificates were issued to anyone under the categories Musician, Teacher, Agricultural Worker, and Media Person.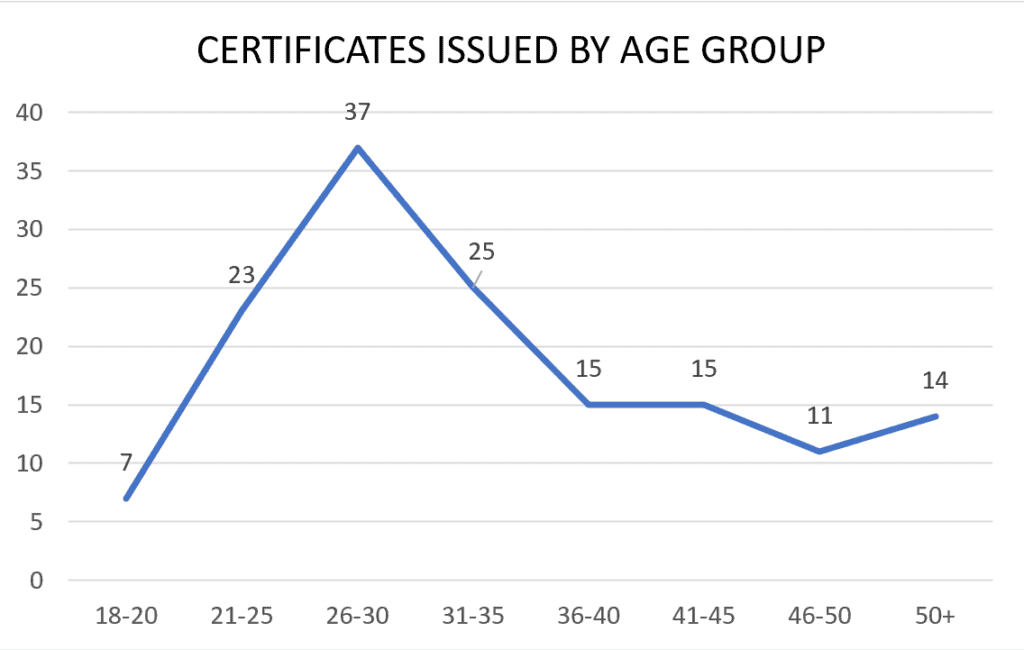 Certificates were issued mostly to recipients who fell between the ages of 26 & 30, with this age group accounting for 25% of Certificate recipients.
BARBADOS ACCREDITATION COUNCIL RECOGNITION SERVICES
JANUARY 2023 – MARCH 2023
BAC RECOGNITION SERVICES
SERVICE
MALE
FEMALE
TOTAL
PERCENTAGE OF TOTAL
CHANGE FROM Q4 2022
RECOGNITION OF INSTITUTION and/or PROGRAMME
6
4
10
50.0%
6 , 150%
RECOGNITION OF QUALIFICATIONS (EQUIVALENCY)
4
6
10
50.0%
-6 , -37.5%
RECOGNITION & VERIFICATION OF QUALIFICATIONS
NONE
-2 , -100%
TOTAL
10
10
20
100.0%
-2 , -9.1%
The table shows that the Recognition of Institution and/or Programme service and Recognition of Qualifications (Equivalency) service were equally demanded during the quarter.
BARBADOS ACCREDITATION COUNCIL REGISTRATION SERVICES
JANUARY 2023 – MARCH 2023
BAC REGISTRATION SERVICES
INSTITUTION
DESCRIPTION
REGISTRATION OR RE-REGISTRATION
PERIOD OF REGISTRATION
Barbados Cosmetology School
Cosmetology, Hair Dressing, Gel/Nail Technology, Make-Up Artistry, Spa Therapy
Registration
1 year
Barbados Institute of Management and Productivity
Management Skills
Re-registration
3 years
Grace & Truth Critical Incident Training & Consultancies
Faith-based educational programmes
Re-registration
3 years
Passiflora Ltd.
Horticultural Training
Re-registration
1 year
Queen's University College of Medicine
Medical Education
Re-registration
1 year
Testis Security System
Security Knowledge & Crime Prevention
Re-registration
1 year
During the quarter there were five (5) re-registrations and one (1) new registration completed. This volume of institutions maintaining their registration status with the Council continues to be an encouraging sign for the post-secondary/tertiary education sector in Barbados.
To learn more about Registration with the BAC, or any of its other services, we invite you to visit our website at www.bac.gov.bb.